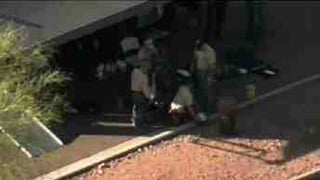 Suspicious device was a toy
FOUNTAIN HILLS, AZ (CBS5) -
A suspicious device found late Wednesday afternoon at Sheriff Joe Arpaio's posse office in Fountain Hills turned out to be a toy, the Maricopa County Sheriff's Office said.
MCSO initially said the object looked like a possible explosive device made of nails and batteries.
A children's playhouse is located next door and investigators determined it was a toy made by some of the kids, sheriff's deputies said.
The investigation at 16833 Saguaro Blvd. prompted the closure of the nearby intersection.
http://www.kpho.com/story/19115410/mcso-suspicious-device-found-at-posse-office-a-toy